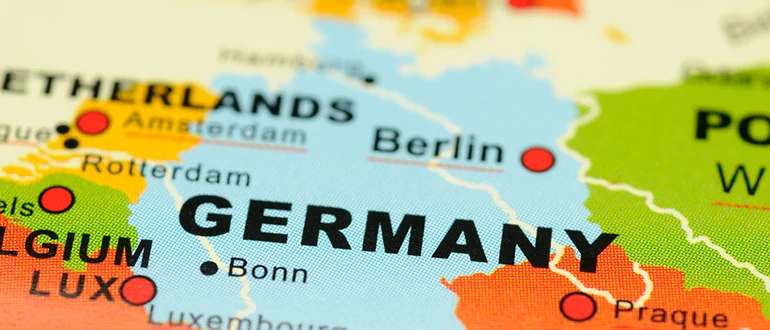 The Best Locations to Live in Germany
Have you ever thought about making a move to Germany? If this is something you have been considering, you certainly wouldn't be alone; in fact, hundreds or even thousands of people flock to the country every year for the high living standards and unique culture, the thriving job market, and the very liberal attitude in general. With this in mind, it might be just the destination you've been looking for when it comes to making a move – but before you can up and leave, you'll need to decide whether in Germany you actually want to move to.
If this is a topic that's left you feeling a little muddled, though, don't worry; we've summarized some of the best locations to live in Germany as follows today to help you learn more about this truly unique country and its many cities and regions. Hopefully, you'll be able to soon find that perfect destination for your own house move as well
Reasons You Should Move to Germany

Why make a move to Germany? There are countless reasons why you might want to pack up and make a move to this stunning country, and as such, it's something that's appealing to a growing number of people – both from within the UK and further afield. However, it's worth considering that the exact benefits you'll experience may vary slightly from destination to destination; luckily, we'll cover this in a moment to help you find the perfect locations to live in Germany after your move.
Still, there are several key reasons that typically remain true in any region you choose. Some of the key benefits that a move to Germany could provide include:
There is a massive array of different village and town types to suit every preference. Whether you'd prefer the hustle and bustle of Berlin or Frankfurt, or if you'd simply like to retire in Germany in a sleepy and quaint town, there's something for everyone.
Finding employment is often easier than in other European countries, especially if you have pre-existing experience (or are willing to learn) in the tech fields – namely, finance, tech, science, and automobile industries represent massive opportunities for those moving to Germany.
Many German residents speak a high level of English. As such, while you'll need to be able to have a conversation when you move to Germany in German, you won't need to panic if you've forgotten one specific word; chances are, your new neighbours will be able to help you find the ideal word choice you were looking for!
Germany has a simply wonderful culture, and this is something that many people recognise when they first make a move to Germany. What's more, there are countless events and activities hosted throughout the year, which may offer additional incentive for many people looking to relocate.
Moving to Germany: The Key Destinations You Need to Know
Before you arrange your relocation to Germany for your next great adventure, it's understandably crucial that you've considered some of the key destinations. Indeed, while the following are only a handful of the excellent locations in Germany you could consider for your move, it's worth considering that they are also among the most popular. And, with each offering something a bit different, it could be a valuable opportunity as well to consider.
Berlin
If you've been thinking of moving to Germany, chances are, Berlin will be one of the destinations you first think of – and, if it's a bustling and busy lifestyle you've been searching for, we highly recommend it as a destination!

Indeed, Berlin is absolutely a leading region when it comes to nightlife, but it's also an excellent region that's packed with historical significance, and as such, offers excellent appeal for many visitors. For example, the remnants of the old Berlin Wall are a key driver for many to visit the region; meanwhile, residents can still see the scars (and following recovery) of the city in the aftermath of World War II.
Whether you're looking for a busy and bustling destination or you're just wanting somewhere to make the most of culture and history, Berlin could be just the destination for you. What's more, as far as cities go, there's a wonderful openness and greenness about Berlin, which makes it a popular destination for those migrating from around the world. And, as an additional benefit, rent caps help ensure that properties within Berlin remain affordable for renters, which may be well worth considering as part of your move.
Leipzig
It's only 100 miles from Berlin, but there's a huge amount to offer in Leipzig; as such, we'd be pretty confident to call it one of the best kept secrets! Though it's a small town, Leipzig is rich and diverse in culture and offers an excellent opportunity for anyone who has a passion for art and music. The region is also home to countless bars, cafes, and nightlife opportunities, so there's plenty for every resident to do.
In short: there's a lot to love about Leipzig, and it's easy to see why it's often considered a more traditional version of Berlin! So, if you love the bustling appeal of Berlin but want a slightly more quaint and calmer experience, Leipzig could be the ideal compromise to make.
Frankfurt
There's a huge amount to see and do in Frankfurt, and with this in mind, it could be an excellent destination to consider for your own move. Fine wine, excellent dining experiences, and countless historical landmarks and attractions make Frankfurt one of the most stunning destinations. The Nature Museum in the region is a key source of interest for residents and visitors to Frankfurt alike; meanwhile, the towering skyscrapers and the Imperial Cathedral are breathtaking sights that absolutely have to be experienced to make the most of them.
Meanwhile, its southwestern location ensures that it has a much warmer and more appealing climate than many of the Northern cities and towns. As such, if you'd rather avoid the bitter chill of German winters – and we highly recommend that you should! – then removals to Frankfurt could be an excellent contender.
The only drawback of making a move to Frankfurt, unfortunately, is that there's a high level of drug involvement in the region, making it one of the less safe places to live in Germany; however, if you can keep out of the back-alley trades and avoid any involvement in drug trading whatsoever, you should be a lot safer.
Still, this is somewhat made up for thanks to the excellent healthcare options in the region, both public and private; as such, so long as you have public or private healthcare insurance in place, you'll get the chance to enjoy some of the best healthcare and medical care in Germany.
Heidelberg

If you're a lover of nature and hiking, Heidelberg could be just the destination you've been looking for. Indeed, there's no doubt that this is one of the most magical and captivating destinations thanks to the town's location just a short distance from the world-renowned Black Forest, which offers stunning hiking opportunities and some of the most stunning natural sights in all of Germany. Breathtaking lakes, waterfalls, and rivers call the Black Forest home, and with countless hiking trails, it's the perfect destination for anyone looking for a more laid-back place to live.
However, there's so much more in Heidelberg than just its proximity to the Black Forest alone.
Indeed, Heidelberg is also an excellent destination for anyone looking for a picturesque German town, with a wonderfully traditional charm that will make you feel like you've just jumped back in time to a quieter and calmer period overall. Meanwhile, the wide array of historical sites ensures that there's something to see for everyone.
Munich
If you're moving to Germany for the job opportunities and career options, then Munich could be one of the best destinations to consider; you'll need to be willing to pay, as it's the most expensive, but the massive number of global corporations ensures that there are opportunities for every resident. What's more, festivals such as the annual Oktoberfest draw massive crowds and help contribute to the exciting and dramatic atmosphere of this stunning German city.
Cologne
Cologne is often considered the media hub of Germany, and is home to the country's top national TV firms; with this in mind, if you have a talent for creativity, it might be an excellent place to live.
This is further backed up by the general beauty of the city's architecture and design overall, with stunning gothic and medieval buildings and countless museums and art galleries to keep any resident entertained. Meanwhile, since Cologne is located under four hours for many of the major European cities, both within and outside of the country, it's an excellent location for anyone who wants to experience the different cultures of other locations and regions, too.
As a further benefit, the region is also well known for its vibrant and exciting Christmas markets and generally family-friendly culture, making it an excellent destination for anyone looking to take children along during the move to Germany.
Stuttgart
Stuttgart's main claim to fame is that it was the home of the very first cars and motorcycles in the world; however, despite this reputation, it's a surprisingly green city with ample outdoor space and opportunities. In fact, Stuttgart is undeniably an excellent destination for any nature lover; this is further supported by unique and quirky bars such as the Sky Beach bar, which take the standard concepts to a new extreme.
Finding somewhere to live in the centre of Stuttgart will often be quite difficult, owing to the region's huge popularity. As such, if you think Stuttgart's green open spaces and excellent activity opportunities could be the perfect choice for you, we highly recommend looking a little further out from the centre; here, housing is more plentiful and pleasantly affordable, and connections with the city centre still make it easy to find a great local job.
Final Thoughts
Living to Germany offers a huge amount of potential, in many cases. However, to ensure you're getting the most from your move to Germany, we highly recommend that you consider today's guide to help. Indeed, there are numerous great destinations, from Frankfurt to Stuttgart and everything in between; however, if you want to be sure you've chosen that one ideal destination for your needs, you'll need to spend a little time considering each region's unique culture and appeal overall.
Still not sure about where you'd like to liveafter today's article? No problem; after all, it's a complex topic. If this is something that's still leaving you feeling a little muddled, then you may want to use today's guide to create a shortlist of destinations and visit each of these in person while on holiday to Germany. This is surely one of the best ways to decide if you could truly fit in with your chosen region; hopefully, it'll help you pick out that one perfect destination for your house move overall.
Making a move to Germany is irrefutably a big step, but it doesn't have to be an impossible goal. With the right approach and after considering the different regions, you'll be able to find that perfect destination for your unique requirements overall.