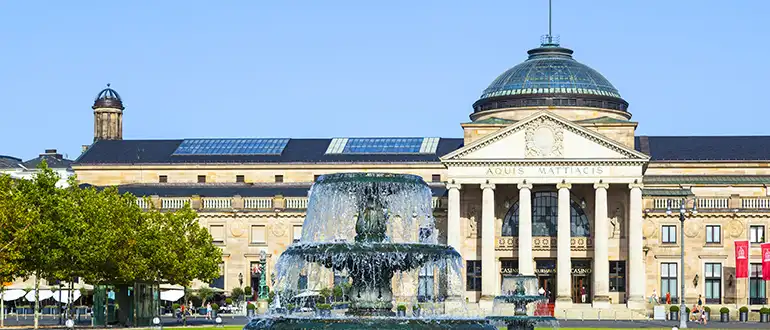 Removals to Wiesbaden
Do you think of moving to Wiesbaden? We understand that you may feel overwhelmed with the details of arranging the entire relocation. But do not worry, we will not allow you to be bothered by nightmares – we are here to help you to move with an excitement and joy. For us it does not matter if you are just sending boxes to Wiesbaden, moving a few pieces of furniture or a full household. Let our experienced movers make it enjoyable, quick, and cost-effective. You can hire our services for removals between Wiesbaden and the entire UK, be it London, Leeds, Cambridge, Ayr, Sheffield, Manchester and any other city. We also do DE to DE removals, so if you need removals to Mannheim, Berlin, Leipzig or other destinations we can arrange your delivery even the same day.
Whenever you are looking to move from one place to another, check the offer of reliable and professional moving companies like ours. We will make sure that your job ends at hiring our services, and from now on, you do not have to even lift a finger to have your goods safely moved to Wiesbaden. We will handle the most arduous tasks while you will be overseeing if all goes as you wish.

Our friendly movers are ready 24/7 to provide you with a proper vehicle for your removals to Wiesbaden, even if you give us a short notice when you need to arrange a last minute removals to Wiesbaden. We are a perfect choice for every removals needs such as moving entire house, sending furniture to Wiesbaden, commercial removals, disposal of unwanted items or delivery from a store. We do not reject to move what you need because it's too small or too big for us. Moving a studio flat, office or moving house to Wiesbaden is our daily bread – let us show you how pleasant removals to Germany from UK with experts can be.
For relocatees, the most important thing is to be sure that everything goes as planned and previously agreed. We will make you sure that we understand that your move is unique by providing a tailor-made offer adjusted to your individual needs, the amount of goods you are moving, distance between the locations, required additional services, or you budget. Our all-inclusive offer allows you to personalize the relocation to make it perfect for you.
Our services do not rest on mere transporting of your goods from one place to another. If you require a bit more help, we can meet you at collection address to help you safely pack your knick-knacks into boxes and wrap your furniture. The packing service will take place one or two days prior to your cheap removals to Wiesbaden so that you have ample time for preparations. Based on the amount and type of goods you are moving, we can offer two, three or four expert movers to take care of your packing.
Hire man and van to Wiesbaden from UK
Are you looking to move abroad? Let us offer you our excellent yet cheap man with van to Wiesbaden service. This way you hire a vehicle driven by our skilful driver who helps you move from the UK to Wiesbaden and the other way around. We are experts in long distance relocations and undertake regular trips across Europe, including quick removals to Wiesbaden from the UK as well as express pallet to Germany from UK.
We focus on hiring only trustworthy and professional drivers having more than 10 years of experience in short- and long-distance trips within the continent to make sure they know it like the back of their hands. Whenever you need last minute removals to Wiesbaden from London, Madrid, Toulouse, Rotterdam, Rome, Kiev, Katowice or any other town, call us for a free moving quote. If you'd like to find out the cost of man with a van to Wiesbaden, suffice it to fill our online form and tell us what your requirements are.Do not be afraid if you have just a few boxes to move, a house worth of belongings, or a student budget – we will find a perfect solution for your needs. To check average moving costs you should contact our team to get free removal quotes UK to Germany. Check shipping rates and plan your budget.

A lot of our customers choose 2 man and van to Wiesbaden service as it is easy and still cost-effective solution. Taking into consideration experience of our team members, you can be sure that your goods will arrive on time and in a perfect condition. The cheap man and van to Wiesbaden service that includes two movers seem to be perfect for customers who need assistance with dismantling and reassembly of furniture. All you have to do enjoy your move with a cup of tea while our Wiesbaden movers do the all rest.
Moreover, we guarantee applying utmost care when packing, wrapping and loading your possessions. We are sure you will not be disappointed with our service. To save time and nerves on the moving day, we recommend either hiring a packing service, or completing the packing on their own at least a day before the date of move. This way the move will be less stressful and more straightforward. If you decide to pack by yourself, we can help you by providing professional packing materials to make sure your goods are perfectly safe and that each box is going to withstand the journey with the man and van to Wiesbaden.
Cheap UK to Wiesbaden furniture removals
Are you looking at sending furniture to Wiesbaden? Are you wondering how to move those bulky and heavy pieces? Let us help you! We will transport your belongings in a quick, safe, and cost-effective way. We understand that people who have never moved before may not be aware of all the moving issues, when and how to pack the goods, what kind of service is best for them, how long it takes to move abroad and many more. But we know it all. Our company moving to Wiesbaden aims at providing you a pleasant and stress-free moving experience.
When it comes to moving furniture to Wiesbaden, one needs to make sure to use appropriate packing supplies, techniques and care when loading and unloading the van, as furniture are difficult to handle and tend to be heavy. They have to be wrapped in order not to get chipped or scratched when loaded, unloaded or on their way. When possible, our team will also dismantle the biggest pieces of furniture and put them back in your new premises as this is the safest way of sending furniture to Wiesbaden. All the furniture will be covered with removals blankets or plastic sheets to make them safe during the transit.
Information about Wiesbaden
The central part of western Germany has a city named Wiesbaden, and this is the capital of the state of Hesse. This city was occupied by about 288,000 inhabitants around July 2016. This population is coupled to the United States army personnel stationed in the city, with a population of up to 19,000 in number. When you consider the larger urban area of Wiesbaden, you will count up to 560,000 inhabitants.
This is one of the cities that make up the Frankfurt Rhine Main Region, alongside Mainz, Darmstadt, and Frankfurt am Main. The metropolis that contains these cities has a total population of more than 5 million people. This city is among the first spa towns in the country. This city had a lot of hot springs when it was still a small village and this explains its name which means meadow bath. Another important aspect of this place is the climate, architecture, and the numerous hot springs located in it. It had as much as 26 hot springs within its borders. Till today, about 14 of those are still in operation.
The tenth Hessentag state festival was hosted here in 1970. It is also imperative to say that this city is wonderfully viable when it comes to its economy, to the extent that it is regarded as the richest city in Germany. It enjoys a GDP per annum growth of 113.3% and each citizen of the city has a buying power of up to €24,798 annually.
The city is placed towards the northern part of the Rhine river bank; just about 40 kilometers drive from the city of Frankfurt. The entire southern area of the city is taken over by the river, and because of this, the landscape of the remaining area rises high towards the top of the Taunus mountains. The western part has a lot of natural reserves, and this is where the sand dunes dropped by the last ice age are still standing. This is completely different in look from other parts of the city, and gives a very beautiful design.
The climate, just like in other German cities is temperate oceanic. This is to say that the temperature range is very narrow. So, people coming from such areas like the UK and US that have very hostile weather conditions will enjoy this place and its moderations. The summers here are warm, while the winters do not get to the freezing point. During the months of summer, rainfall is normally expected to peak. Because of the mountains around the city, it enjoys a slightly higher amount of rainfall than other German cities. However, with what it has to offer to people from other European nations, coming here is a good one.
If you are coming from any of the EU countries or the nations within the EEA area or even Swiss, you won't have to worry about a visa or work permit to come in and work here.  However, you have to register with the local authorities if you wish to stay for more than 90 days. This is not applicable to people from other countries. They have to get a visa from the German embassy or consulate in their country before they can come in. They will also need to apply and get a work permit before they could be allowed to work here. People from some countries are required to have a job secured in the city already before they could be issued a visa, while some will be allowed to come in and start searching for jobs.
The transport structure is one of the best in the entire world, just as it is in other German cities. They have superb and standard roads with the best surfaces you can imagine. They drive in the right-hand side. People coming with driver's license that is not in German or English will need to get another one once they come in. Those coming with foreign driver's license printed in English or German, but from non EU and EEA countries will only be able to use this for six months, after which they should get a German license. The city also has the main rail system running through it, with the S-Bahn and bus networks serving it too.
The healthcare system here is of the best standard, and it covers the entire city. The schemes are mostly funded by the government. There are major and efficient hospitals and clinics serving the city, and access to general medical care is not a problem. St. Josef's is the major hospital here, and you can easily access it.
There are different education systems according to states, but the federal government takes care of all these. Primary school takes care of kids from 10 or 12 and below. From the age of 18 down are taken care of by the secondary schools. There are many of such schools in the city. For those locals who want their kids to be taught in English, there are many international schools here. The city has two major universities offering tertiary education to expats and their kids, and they are the RheinMain University of Applied sciences and the EBS University of Business and Law.
Reasons to moving to and living in Wiesbaden

There are several reasons why relocating to Wiesbaden is worth trying.  The first one is the fact that this city could be described as a pretty town. That sounds amazing, right? Yes it does. The architecture is out of this world and this is also enhanced by the topography of the city and its steep slopes. If you want to enjoy the fun of your life living, then you have to get to areas like Nerotal.
However, the city is generally cheap. If you have lived in Frankfurt and shouldered the rent and living costs, then you can comfortably do same here because two of them are similar in those things. But, do you know the shocker? This city is regarded as the richest place. So, you just have to consider living in the richest area, while paying bills that are the same amount with what you pay in other cities like Frankfurt. You gain a lot.
The next reason to come is the jobs. With an avalanche of multinationals here, with a lot of German firms having their headquarters here and with many hessian ministries being located here, it won't take long before you get a very nice job here. So, if you are a young expat who is looking for a dynamic and versatile place where varieties of jobs are available, coming to this area will not be out of place.
The leisure aspect is the one that keeps people here. Consider the city with 16 hot bath springs in existence, and you will know why the entire world wants to come here for vacation. There are numerous parks everywhere. The buildings you see on the street are amazing and the annual wine, music and film festivals are great. The food here is also great because you can enjoy your continental dishes too, and you can make friends and interact with the people easily.
Removal companies offering UK to Wiesbaden transportation
To those who are relocating to Wiesbaden for vacation, for job purposes, for business purposes or for personal purposes, there is one problem they will encounter in this endeavor. That is the problem of the airlines not being able to accommodate their excess baggage. Because of this, they will need a special excess baggage removal to the city from the UK. One more problem is that it is not easy to get a firm that will guarantee you a hitch free removal to Wiesbaden. So, when you get one that promises you safe and on time man and van service to Wiesbaden, pallet delivery to Wiesbaden and freight forwarding to Wiesbaden, you should hire them for the service.

The things that set us apart from all the other pseudo removal firms out there are so numerous to mention. The first one is that no job is too urgent for us. If you want to have your items picked from the UK and delivered to Wiesbaden the same day, we will do is for you with our courier delivery to Wiesbaden. We also offer removals to Bonn from UK and other areas in DE. This service can also offer delivery the next day if that is what you wish. So, for all last minute issues that entails a short notice; do not fail to bring them to us because we are capable.
We also do not have any small or big jobs, in the sense that you will get the same attention from us when you are moving a single item and when you are moving an entire house or office complex. We have the wherewithal to offer the pickup and delivery of your home and office furniture of all types including the beds, mattresses, sofas, washing machines, TVs, armchairs, chest of drawers, manufacturing equipments, manufactured goods and anything that is used in the home or office.  Those who wish to send parcels, documents and paperwork should use our parcel delivery service to Wiesbaden.
We also do packing, depending on what you need. Our storage service for those in need of in-between moves is also something to bank on because our storage containers and warehouses are the best you can have.