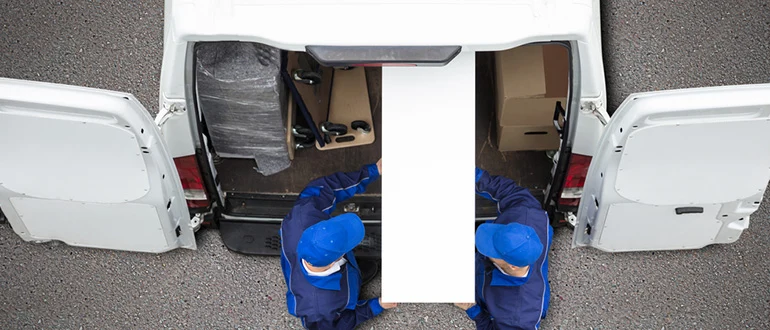 Moving to Germany: Key Steps to Ensure Your Furniture Removal Goes Smoothly
Have you ever considered making a move to Germany? There are numerous excellent reasons why you might want to move to Germany – and, if you decide that this could offer the ideal solution for your own moving needs, you'll need to begin making preparations. With this in mind, today, our expert and professional team of furniture movers is on hand to help you learn more about the moving process and how to easily and safely get your furniture from A to B – even when that involves crossing waters!
Is it Difficult to Move Furniture Between the UK and Germany?
Before we look any further at how to move your furniture between the UK and Germany, we should start by considering the potential difficulties associated with doing so. Indeed, while it's not impossible to move your much-loved and highly-prized belongings between the UK and your brand new home in Germany, this will irrefutably come with some challenges.

First of all, it's worth considering just how much work there is involved with moving your furniture to Germany. Indeed, when moving house at the best of times, it can often seem like a logistical nightmare having to move furniture from London to Berlin. Now, add hundreds more miles between your current home and the target destination and an ocean to boot, and it's pretty easy to see why challenges can begin cropping up.
What's more, we should also point out that moving any items over this distance will undeniably come with risks attached. Indeed, depending on the materials and craftsmanship of your items currently, even a little knock could do great damage. That £200 vase that you absolutely adore? One little bump could leave it cracked and worthless. Or what about your brand new, state-of-the-art flatscreen TV? An accidental drop could leave the entire screen fractured and shattered – not a great way to enjoy your favourite shows, for sure.
As such, it's clear to see really why moving items between Germany and the UK, and vice versa, can come with major challenges to offset these struggles. Fortunately, though, this doesn't have to be an impossible challenge – and there are people out there who can help make your life a little easier!
Get Professional Support to Make Things Easier!
There's no doubt that moving your furniture between the UK and Germany comes with significant challenges. In fact, it's quite possible that moving your furniture will easily one of the most complicated and frustrating aspects of the entire process; whether it's something as simple as moving that aggravating  bed frame down the stairs, through to the complexity of arranging cross-water shipping for your furniture, there's a lot to think about – and this can add extra stress to your house move that you really don't deserve!
Fortunately, though, it doesn't have to be this way – and professional furniture removal companies are there to help ensure your house move goes seamlessly, no matter what. Indeed, professional teams have made it their mission to offer the most reliable moving support for your beloved furniture; so, why break your back trying to move alone, when you could reach out to the experts to manage the whole process for you instead?
Does Furniture Removal Offer Good Value-for-Money?
Before investing in furniture removal services for your move to Germany, it's crucial that you've spent a little time briefly considering the value-for-money they may be able to provide. Luckily, though, when you partner with an experienced professional team such as ours, you can rely on top-quality services for some of the most competitive possible prices.

What is it that makes furniture removal services such an excellent option to consider for your own house move? Well, there are a few key, apparent reasons why furniture removal teams might provide great value for money; however, of these, the most obvious has to be that you'll be paying for furniture removal in any scenario. Unless you just happen to own vehicles large enough to transport the furniture, it will still remain critical to invest in hired vehicles to help move the goods – and this comes with a significant expense in and of itself. As such, since you're paying out already, it's often a far more practical solution to pay a few pounds more and hire a full furniture removals to Germany team instead. This simple change might just help your house move go smoothly overall!
How to Choose the Best Furniture Removal Team?
At this point, we've outlined some of the key challenges you'll likely face when it comes to moving your furniture between the UK and Germany – but how can you choose a professional and dedicated house moving team to help? It's often irrefutable that getting the professionals in to help with your house move will offer a far superior and more straightforwards moving experience, but this depends on your chosen team and their ability to offer genuinely helpful services.
As such, when looking for a professional furniture removal team, please don't hesitate to reach out to our experts – or why not ensure you've considered the following points to check your chosen furniture removals team can help.
Does your chosen team offer good value for money?
Can the moving team offer guarantees for the safety of your belongings?
Does your team offer advice on import restrictions in Germany?
Is the chosen team reputed for offering high-quality, reliable services?
Can the moving team cater for all of your property's moving needs and furnishing types?
Are they willing to fit with your house moving schedule, or would you have to juggle dates around to find a suitable time to move house that fits with them?
Will the furniture movers deliver your furniture directly to your new door? Or will you have to make alternative arrangements to get your furniture from drop off into your new home?  
Does the team provide long-distance, across-water furniture removal and delivery support?

These are all factors that our professional team can help with; so, please don't leave things to chance. Choose our experienced team today for the best possible UK to Germany furniture moving support.
Choose Our Team for Professional Furniture Removals to Germany
Chances are, you've probably spent quite a bit of money on your existing furniture. And, with that aside, our furniture can mean a lot to many of us from an emotional perspective. As such, rather than selling up and moving to Germany with a brand new collection of furniture – which will likely offer far poorer value overall – we recommend that you take your furniture along with you; fortunately, this is something that our experts can help with. Whether you are looking solutions to bring single piece of furniture to Germany or arrange furniture pallet delivery to Germany from UK, we have right equipment and man power to arrange any kind of furniture deliver to Germany.
So, please don't leave things to chance; even little errors and mistakes could damage the integrity of your furnishings, which is why we work with unparalleled dedication to ensure our customers' belongings are treated to the best possible support, without compromise!