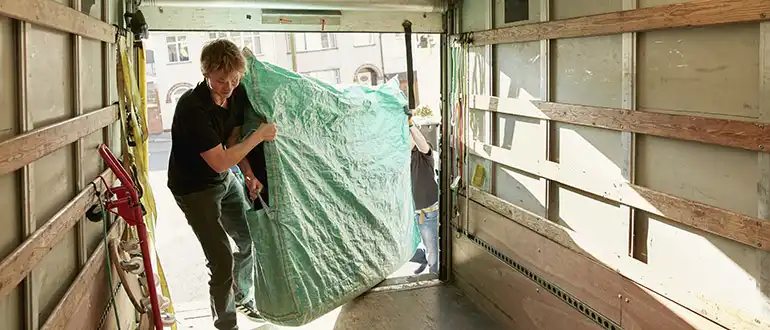 Removals to Gelsenkirchen from the UK
Whether you are moving down the street or you are moving across the border, save yourself of the time of searching for a reliable removal company offeringUK to Germany removals. We are the right company to provide you with the quality removal services to Gelsenkirchen that you are looking for. We are quite aware that you value your properties and this is why you bring out time to search for efficient reliable removal business.
We trust in our ability to provide you with efficient and satisfactory UK to Gelsenkirchen removals. You can check our records. Since we started operation, we have provided our services to many removal individuals, students, businesses and institutions. They were all happy with the quality of services we provide. This is why we have recorded 99% success rate. So, if we have satisfied other people, we are also going to satisfy you.
We are quite aware that affordability is one of the factors that you are likely to consider when you are searching for removal service. In this regard, we are also not found wanting. If you are planning your budget for your furniture removals to Gelsenkirchen you can be sure that our services are within your budget – check removal costs to Gelsenkirchen from UK by requesting free moving quote to Germany.
Affordable house removals to Gelsenkirchen

One of the reasons why our previous clients keep coming back to us when they need removal companies to Gelsenkirchen is because they found our services highly affordable. Request for quotes from us and you will see how affordable our quotes are. We are not like some other removal company that will not include all their fees in their quotes just to make them appear very affordable. We include all the fees that you will be asked to pay for the international moving services to Gelsenkirchen we provide. There is no hidden charge in our quote.
So, if you are issued with a final quote, it is a final quote. With the quote, you will be able to make budget for your move. Besides, our quotes are provided free of charge. So be it full house removals to Gelsenkirchen from UK, sending large parcel or need urgent pallet delivery to DE, then you are on the right place. We offer flexible services, so we can match requirements of different clients. We also offer full packing services, as well as packing materials supply for our clients, so if you choose our company for your relocation to Gelsenkirchen, you can also get cheap cardboard boxes directly from us.
Having been in the industry for many years, we have come to understand that removal is much more than sending goods to Gelsenkirchen. There are other services that come with it such as packing and unpacking, home cleaning and refuse disposal, storage services and other. To ensure that everybody that comes to us is provided with the required help, we offer a one stop service. No matter the type of service you want, we can provide it to you insofar as it has to do with removal. Express baggage to Gelsenkirchen, shipping to Gelsenkirchen, furniture removals, UK to Gelsenkirchen man and van hire, office removal, house removals, heavy equipment removals and others are among the services that we provide.
Man and van to Gelsenkirchen – solutions for small deliveries
We have large equipment and resources. Relying on the experience and expertise of our man and van team as well as on our equipment and resources, we are able to handle different kinds of removal jobs. There is no job that is too big for us to handle or that is too small for us to accept and execute it. We try to accommodate each client. This is why we have different packages to suit everybody. Not only removals but we also offer man with a van to Gelsenkirchen. This type of services is ideal for clients looking for small transportation at a very short notice.  Besides, we are very flexible in our approach. Just have discussion with one of our experts on your needs and he will work out a suitable UK to Gelsenkirchen man and van package for you. Our part load delivery to Gelsenkirchen is suitable for people that have small loads. We also provide full load services as well as door-to-door delivery services.

We are aware that time frame of each client is not the same. While some will want express pallet delivery to Gelsenkirchen others are not pressed for time and can afford to wait for days. But in order to accommodate everybody, we have developed different moving packages in terms of timing. If you want same day furniture delivery to Gelsenkirchen, we can provide them to you. We also offer next day delivery as well as 3 three days or more delivery. The prices differs depending on the time framed allowed. The shorter the delivery time is, the higher the price will be. So, same day delivery via our man with a van to Gelsenkirchen are more expensive than other packages. Given the shift method we operate on and large number of equipment that we have as well as our large resources, we are also able to provide UK to Gelsenkirchen man and van services on short notice and on 24/7 basis. So, call on us anytime you like even during the holiday period and weekends and we will answer you.
Making a last-minute arrangement is not much problem for us because we have a good rapport with a number of airlines and carriers. So, given our rapport with them, we are able to strike business deal with them even at the last minute. 
So, if you want your job to be carried out by professionals, we are the way to go. We are experts in moving furniture, sending baggage, transporting machinery, sending items to Gelsenkirchen, transporting pianos and garden plants. Contact us now and get cheap removals to Gelsenkirchen.
Information about Gelsenkirchen
It is located in the northern part of the Ruhr area in the German state of North Rhine-Westphalia. Before growing into a large urban area, it was a tiny village which first appeared in history in 1150. It grew greatly during the 19th century Industrial Revolution. There was living here about 6,000 people in 1840 when the mining of coal began in the area. But its population gradually grew. In 2015, it has a population of 260,000 people. At the beginning of the 20th century was nicknamed "the city of a thousand fires" because at night, the flames of mine gases can be seen flaring. In fact, during this period, there was no place that was ranked as high as Gelsenkirchen when it comes to coal mining not just in Germany but in the entire Europe.
Later in history, there was a merger of Gelsenkirchen, Buer and Horst to form Gelsenkirchen-Buer in 1928. However, in 1930, the name was also changed to its current name. This place experienced heavy bombardment by the Allied forces in their air raids of the area because it was the major city where coal was produced and oil refined in Germany. After the war, there were no coal miners again as a result of decline in coal mining. As a result we could observe a high unemployment rate. The employment crises lasted for decades. However, through hard work and innovation, it managed to come out of the economic crisis. It is today home to the largest solar power plant in DE. A coal-fired power station located in Gelsenkirchen-Scholven has chimneys which are up to 302m and regarded as the tallest in the country. The old refineries have been restructured and turned into ice skating rinks and event halls. Old rail lines have now become beautiful bike paths
Gelsenkirchen belongs to an urban district in the region of Munster. The head of the government is called the Lord Mayor. .
Expats in Gelsenkirchen
If you are aware that it was once nicknamed the "city with a thousand fires" definitely, you will be thinking that it is not an eco-friendly place. But things have really changed. It is today one of the environmentally friendly cities in Europe. With the old rail lines that transported coals changed into cycling path and the industrial area turned in the famous Nordsternpark, it is easy to see why it is regard as an eco-friendly city. Besides the natural environments , it provides shopping opportunities for shopping enthusiasts. It has two shopping centers. There are a lot of specialist shops in Hochstrabe which is the high street. Besides shopping, there are other entertainment venues such as pubs and streets.
This place is a home to expats that like who live active lifestyle. On the Rhine-Herne Canal was the old Bismarck canal port but today, it has been turned into recreational venues. Some of the old refineries are now venues for ice skating. If you like ice skating, these are the venues to go to. If you are a football fan who follows German Bundesliga, UEFA Champion League and UEFA Europa, you would have heard about Schalke 04. It is one of the top ranked football teams in Germany. You can join the local fans in cheering the team up during any of their home matches. The stadium of this football club is the Veltins Arena which has a capacity of 62,000. It was one of the stadia where the FIFA 2006 World Cup was played. Besides footballs, there are sporting events that are being hosted in this stadium and these include car racing, pop concerts and boxing tournaments. You can make out time to watch any of these tournaments going in the stadium.
There is plenty of event venues with activities goings on in them on regular basis. Most of these event centers were created from the former collieries and factories that existed during the industrial revolution and mining era. A popular event venue in the area is die Kaue. Expats who are music lovers will also get the opportunities of catching fun during their stay. Apart from the event centers located here, it also has a music theater which has 1000 seating capacity. This coupled with the municipal museum and the halfmannshof artists community omakes a great cultural destination. Besides old refineries converted in other types of attractions, there are also newly constructed buildings and attractions. The Zoom which is a zoo that is new constructed iis a typical example of attractions constructed from the beginning to the end in the modern area. It homes different species of wildlife from Africa, Asia and Alaska.
It has different kinds of education institution including a university which is located in the northern part in a locality called Buer. Buer has cosy pubs and great street cafes and as a result, its pedestrianised shopping area has great atmosphere.
Expats who want to delve into the past o should consider living in the southern part which was the home for the first coal mines as well as its first industrial estates.
Indeed, expats living hereshould count themselves blessed. It has lot of infrastructures and attractions but if they are not happy with what it has to offer, they can easily get to bigger cities of Cologne and Dusseldorf as these cities are closer to Gelsenkirchen.
Reasons/advantages/disadvantages of moving and living in Gelsenkirchen

Living in Gelsenkirchen will give expats a lot of benefits despite the fact that it is not yet a perfect place. Here are reasons why you should consider moving and residing here.
Eco-friendly urbane area
One of the reasons why you should consider moving to Gelsenkirchen especially if you are an eco-friendly campaigner is because it is an eco-friendly location. A lot of reconstruction works were carried after the World War II. This coupled with the decline of mining which transfigured this area from an industrial and coal mining city to an oasis of nature. It is a good location for any person that will like to explore nature.
Life and sport
It  is a great destination for people that like living an active life and sport enthusiasts especially football enthusiasts especially those that have penchant for football. It has sports venues and recreational facilities for its residents. You can go to the Veltins Arena to watch live football match. Car racing and boxing tournaments are also organized in this arena.
Plenty of attractions
There is a number of cultural and historical attractions. Though it is not a popular tourist destination, there are still a number of things that residents that want to catch fun can do. It has both indoor and outdoor attractions. Trails and riding paths are also available. Coys pubs and street cafes are all available around every corner. A day outing with your family to Zoom will definitely make your day. Different species of wildlife from Africa, Asia and Alaska are spotted in this zoo.
Wonderful location
It is located close to two great cities in Germany, namely, Cologne and Dusseldorf. This means that expats has the opportunity of having deep knowledge of German culture. They can make out time and visit these cities with great cultural and historical heritages if nothing in Gelsenkirchen impresses them. It is well linked to these cities.
Clean place
Apart from being an eco-friendly, it is a very clean towny which also gives it an edge over some other cities. The cleanliness helps to improve or enhance the quality of health. Besides, it is a beautiful areay. A lot of works were done in order to transformed the colliers, mining sites and industrial areas into some other thing useful for the residents.
Affordable living cost Expats from the UK will find things especially accommodation cost less expensive than they are in the UK.