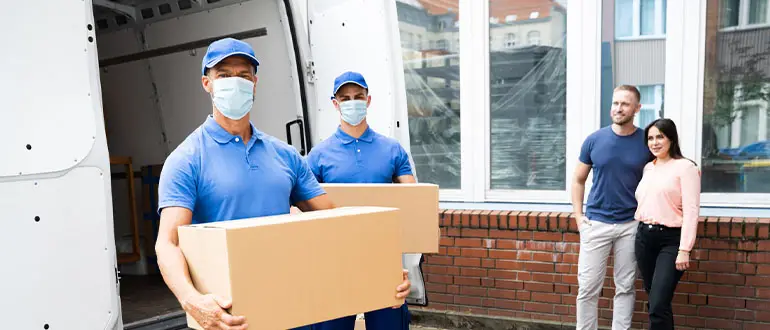 Staying Safe While Moving House During the Covid-19 Pandemic
We're all doing our best to live life as normally as possible at the moment. However, the Covid-19 pandemic is continually making things a lot more difficult, and even seemingly safe actions such as private removals from UK to Germany can represent a major challenge for many of us.
However, there are still ways that you can continue living your life safely and make the most of every opportunity available to you. And, with this in mind, we've outlined some of the key factors you could consider for your own house moving efforts to ensure that everyone involved stays safe for as long as possible.
While we all probably hoped that the Covid-19 pandemic would have been long gone by now, unfortunately, this isn't the case, and we're still having to live with the dangers and threats posed by this deadly virus to this day. As such, it's critical that you've considered the different options to stay safe during your house move – and the following tips, in particular, may help.
Things to Consider Before the Move
Before you move house, there are numerous different factors you will need to consider to limit your risk of contracting Covid-19 (or any other nasties, for that matter). As such, we highly recommend the following precautions while marketing your home and looking for the ideal property for your next home.

As an initial tip, where possible, try to engage with virtual house viewings as much as possible, particularly when it comes to marketing your home and viewing other properties. There's nothing wrong with visiting a property, of course, but checking out a home virtually beforehand can help you to reduce the number of properties you need visit which could, in turn, reduce your exposure to nasty pathogens.
Secondly, if you are selling your home, try to take precautions where possible to stop visitors potentially endangering your property. You should always request that visitors wear a face mask at all times while inside your home; what's more, you should ensure that your home's windows are kept open to promote airflow throughout the house. To allow this to have the best effect, it may also be worth staying outside following the viewing, just to allow your home to air out a little before you re-enter.
As a final point, we highly recommend you carry out a simple Covid-19 risk assessment for every property you visit or any time you have visitors to see your property. This doesn't need to be a fully thorough risk assessment, but it should highlight potential risks and opportunities to stay safe overall.
On Moving Day
So, the big day's arrived, and you're just about to move into your new, dream home! But how can you stay safe while moving house?
Always Wear a Face Mask During the House Move
Without a doubt, one of the most obvious tips you should consider to stay safe on moving day has to be to wear a face mask. Indeed, wearing a face mask is a critical aspect of staying safe. Science has proven countless times that the simple act of wearing a face mask can drastically limit the amount of pathogenic material you are exposed to.
This is particularly critical if you're sharing the same airspace as other people since Covid-19 pathogens linger on the still air, and this can make it much more likely to contract the disease. However, wearing a face mask at all times during the house move is one of the best ways to stay safe.
Pack Up in Advance
Another key tip we can offer to stay safe on moving day is to ensure that you have packed up your belongings in advance, which can help your moving team get in and out more quickly. Minimising the length of time you're sharing airspace with others outside of your household may be a good way to reduce your overall risk of contracting the disease.
Make Sure You've Got Hand Sanitizer to Hand

Hand sanitiser easily became one of the most valuable tools to control the spread of the Covid-19 pandemic during the first year, and it's just as valuable now. Choose a high-alcohol hand sanitiser to ensure that you don't accidentally pick up any pathogens. Moreover, if you're concerned, we recommend sanitising your belongings after the move is complete to ensure that they've not picked up any bugs during the house move.
Always Adhere to Social Distancing Throughout
It might go without saying, but if you want to stay safe while moving house, it's critical that you always adhere to social distancing and keep as much space between you and those outside of your household as possible. Ideally, you should be looking to keep a minimum of 2 metres between you and other people, as this can reduce the risks of pathogens spreading; however, if this isn't possible, try to stay at least one metre away and only for the bare minimum time.
At the end of the day – the less time you spend in contact with other people, the less chance you'll have of catching any pathogens.
Always Do A Lateral Flow After Your House Move
After you've moved house, we highly recommend you complete regular lateral flow Covid-19 tests to be safe. Indeed, while this can't stop you from contracting Covid if you've already been exposed to the pathogens, it may allow you to take precautions. In the unfortunate event that one of your family members went down with Covid during the move (or before), regular testing can help you determine this quickly and isolate them to keep the rest of the household (and any other loved ones or community members) safe until they recover. But, with the right precautions, this hopefully won't be a necessity anyway!
Final Thoughts
Staying safe during the Covid-19 pandemic is crucial, and with this in mind, there are several opportunities you could consider to reduce your contact with others during your house move to Berlin and help to keep everyone safe.
Of course, it's down to all of us to try and minimise the risks of transmission while the pandemic continues – and as such, we highly recommend that anyone looking to move house considers today's ideas to ensure their move goes successfully.