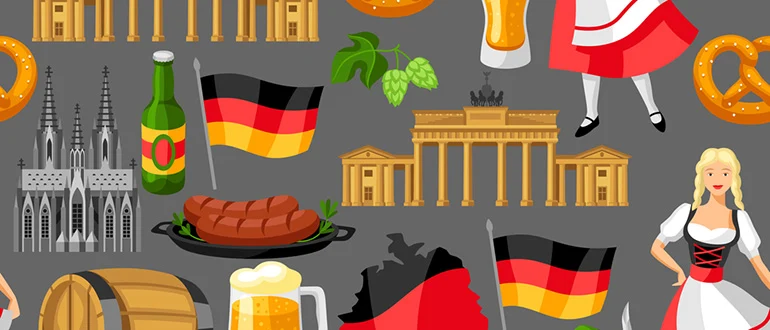 How to Immigrate to Germany - Relocation Guide
When it comes to relocation from the United Kingdom to Germany, it's critical that you've made the most appropriate plans to ensure your move goes smoothly. Fortunately, with this in mind, our team is on hand today to help you find out a little more about the different requirements of relocation from the UK to Germany – and, critically, why this might offer a valuable and attractive solution for your own lifestyle.
After all, Germany has a very strong economy and a rich and diverse culture; as such, if quality of life is something that influences your decision significantly, it's highly important to consider how this could help support your overall choices and decisions. However, ever since the Brexit trade agreements and the transition period was implemented, it's become a lot more unclear about how individuals can move from the UK to Germany; as such, you may want to consider today's guide to find out more about
What You Need to Know When Migrating to Germany
Have you ever considered emigration to Germany? If so, then it's essential that you consider how you can relocate to Germany overall. Luckily, though there are numerous different changes implemented since the United Kingdom left the European Union, understanding these can help you ensure your move goes more smoothly overall.

The primary change that we should consider regarding relocation to Germany following Brexit is the need for proper documentation. We've covered this in more close detail in our other guides; so, if you're unsure about how the Brexit transition period has impacted the documentation you require, it's crucial that you consider this guide to start out on the correct footing with the key documentation you require for your move.
Fortunately, living in Germany typically tends to come with a lower cost of living than countries such as the UK, the only exception being local purchasing
How to Work in Germany
When relocating to Germany, chances are, you'll want to find a job within the country itself. With this in mind, there are several different types of Visas that you could apply for which may help you gain access to the German economy; these include:
Job-seeker visas allow individuals without holding an established, concrete job offer to enter the country in the search for employment. A job-seeker visa allows the individual to search for a job for up to six months while living in Germany; thereafter, they will need to apply for another visa, regardless of whether or not they manage to secure a job offer during that time.
Visas for qualified professionals allow individuals who hold a higher education certificate from outside of Germany entrance into the country.
Visas for IT professionals, as the name would suggest, allow individuals with IT experienced and/or qualifications to enter the country. The visa requires a minimum of three years of professional experience (earned within the past seven years); this visa is available due to the rapidly growing demand for IT professionals, which is largely not met by the German population alone.
Self-employment visas are a further option to live and work, which allow self-employed individuals to work in Germany either on a freelance or commercial basis.
Unfortunately, applying for a Visa in Germany does come with costs as a British citizen in Germany after Brexit. Notably, applying for a Schengen Visa will cost £51 equivalent for adults and £30 for children between the ages of six and twelve years; meanwhile, visas for those under six years are free. Alternatively, long-stay visas come with a slightly higher price tag of £64 for adults and £32 for those under the age of eighteen years, irrelevant of their age bracket; as such, those up to six years of age are also liable for a fee. Since these visa applications are non-refundable, we recommend that you consider carefully if you're ready to make a moving to Germany before applying for one.
How to Find Somewhere to Stay When Living in Germany
At this point, we've outlined how you can apply for a Visa in Germany – however before you move to Germany, you'll need somewhere to live. Fortunately, there are numerous different options you may be able to consider for your accommodation when living in Germany. As such, when looking for somewhere to stay in Germany, we recommend you consider the following factors.
Rent vs. Buy
Generally speaking, the majority of German households choose to rent rather than buy; with this in mind, the rental market in Germany is strong, with most properties for rent in Berlin falling at around €1,100 per month. It's also worth considering that most German residents will spend between one-quarter and one-third of income on rent per year.
Other major German cities, such as Munich and Frankfurt, also tend to have higher rental prices than smaller cities and rural communities; as such, your choice of location when moving to Germany will directly play a role in the final property price you will have to pay.
Of course, it's also possible to purchase a property in Germany rather than choosing to rent. However, if you choose to purchase, you'll need to consider that most mortgage lenders will require a downpayment of approximately 40% or more of the value of the property. As such, it typically tends to be much more difficult for people to get onto the property ladder in Germany, which may be something to consider overall as part of your decision.
Applying for a Rental Property in Germany
First, you'll need to ensure you're registered with the Citizen's Registration Office; this must be completed within 14 days of arriving in Germany. At this meeting, you will need to present ID documentation that's valid. If you have already arranged for a rental property, you will also need to provide a copy of the confirmation document from your housing provider.

After this point, we recommend that, if you haven't yet arranged for accommodation, you begin by checking rental prices in your chosen region; a rental calculator can help you ensure this is affordable. As with standard rentals in the United Kingdom, you'll also need to sign the lease agreement before renting a property in Germany. Your potential new landlord will likely also want to see documents such as payslips, your passport, guarantor details, and the like; this is information that you can check during meetings with your potential landlord and their agent at the time of negotiations.
After approving a rental agreement, you will need to begin the process of registering with service providers (such as energy and water utility companies). In addition, from a personal perspective, you will need to choose a health insurance policy, establish a German bank account with your tax ID number, and register for phone and WiFi services.
Applying for Medical Insurance
In order to move to Germany, you will need to take out German medical insurance, commonly issued by a statutory insurer (referred to as the Gesetzliche Krankenkasse). See our guide to German health insurance policies for further detail on how this may work following the Brexit transition period.
If you are travelling to Germany from high risk covid country you should remember to possess valid Covid recovery, Covid vaccination passes, or a negative Covid test.
Making a Move to Germany by Road or Air Freight
If you're ready to make a move to Germany, then it's worth considering briefly the different costs associated. Typically, the cost of moving will vary depending on the number (and weight) of belongings you have and your final destination, with most moves costing around £950 per room, increasing to £1900 for a 2 bedroom house or £2850 for a 4-bedroom house. However, the cost of moving with air freight is often substantially more than the cost of moving by road, with prices of £2100 or so being common for most properties; however, this does offer a more efficient solution.
Whatever the case might be for you, whether you are sending parcel to Germany from UK or full van of furniture, please don't hesitate to reach out to our friendly and experienced team today if you're ready to learn more about moving to Germany from the UK by air or road!
| | |
| --- | --- |
| Road service | Cost |
| 50 boxes | £750 |
| 1 room | £950 |
| 1 bed-apartment | £1550 |
| 2 bed house | £1900 |
| 4 bed house | £2850 |
| | | |
| --- | --- | --- |
| Air service | Weight | Cost |
| London to Berlin | 100kg | £825 |
| London to Hamburg | 250kg | £2,100 |
| London to Frankfurt | 50kg | £515 |
| London to Munich | 350kg | £2,800 |
| London to Cologne | 150kg | £1,420 |